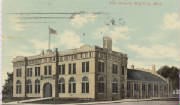 A new Armory to house Bay City's National Guard units was designed by local architects Pratt and Koeppe in 1910 and dedicated on September 18, 1911, to much fanfare. The building replaced an older structure on the same site that had been used for the same purpose since 1894. In 1912 the building became part of the folklore of the foundation of Theodore Roosevelt's "Bull Moose" (Progressive) Party, a third political party created by a split in the Republican caucus.
The Republican State Convention was held in Bay City in April of that year, and scuffles between supporters of Roosevelt and President William Howard Taft led to fistfights on the grounds of the Armory. Things became so heated that Governor Chase S. Osborn called in the State Militia to keep order. Later that year at the National Republican Convention in Chicago, Roosevelt's delegates were refused recognition and left the convention to create their own third party. Thus the earlier events at the Bay City Armory played a role in its foundation.
Over the years, the Bay City Armory was home to the area's National Guard units, including the 2nd Michigan Ambulance (later designated the 128th Ambulance at the start of World WarI), the 121st Ambulance company, and the 207th Engineer Battalion. The Armory was also used as a community events center, hosting events such as 4-H shows, Golden Gloves tournaments, dances, concerts, and lectures. The last Guard unit moved out in 1986, and the building was acquired by the Bay County Historical Society to be renovated as the new Historical Museum of Bay County.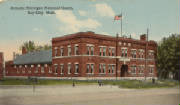 BCHS implemented a renovation plan and opened the building as a museum in 1988. The Bay County Historical Society has invested over 3 million dollars into improvements to the building. This included major renovations in 1988, 1994, 1997, 1999, and 2005 that have created over 8000 square feet of permanent and temporary exhibit space. It also added storage for the Society's 220,000-plus artifact and archive collection, a functional Research Library, a movie theatre featuring local history documentaries, educational spaces, a Museum Store, staff offices, and workrooms in a building that is now climate controlled (for preservation) and handicap accessible.
Images: Early post cards of the Bay City Armory building (BCHS Collections).