Patrol Craft Sailors Association
Since 1994 the Historical Museum of Bay County has been the repository for the Patrol Craft Sailors Association Collection. The collection currently consists of over 9000 artifacts, the majority of which are black and white photos and postcards from the WWII era, as well as more recent color photos from PCSA reunions. There is also a good representation of photos and items relating to the new PCs built by Bollinger Shipyards. Other artifacts include books, diaries, technical manuals, uniforms, insignia, flags, souvenirs and videotapes. Researchers are able to find information in our research library on individual patrol vessels, service schools, the PCSA and other related topics.
As part of our ongoing Image Digitization and Access Project, all possible photos in this collection have been scanned and are available to be viewed as thumbnails in the Butterfield Memorial Research Library. They are organized by ship hull number as well as by topic and copies of these photos are now available to PCSA members and their families. For more information on how to obtain these copies please contact the Special Collections Manager.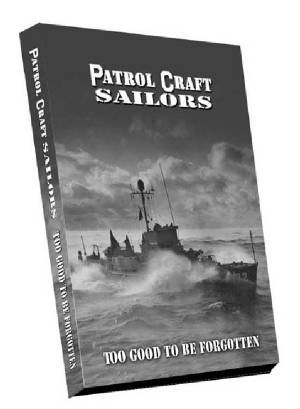 Patrol Craft Sailors
-Too Good To Be Forgotten-
This documentary, produced by the Historical Museum of Bay County, tells the story of the birth of the WWII patrol craft fleet and of their crews, and features interviews with members of the Patrol Craft Sailors Association who recount their personal wartime experiences. The DVD features rare footage of ship launchings at Defoe Shipbuilding Company in Bay City, as well as footage of troops swarming ashore, their landing craft guided by patrol craft. The documentary was sponsored in part by a grant from the Patrol Craft Sailors Association.
$15.00 plus tax. Copies are available in the Historical Museum of Bay County's Museum Store. To purchase a copy by phone, please call the Museum at (989) 893-5733.
One half of the proceeds from the sale of this documentary will go towards the management of the PCSA Collection/Archives.